The digital revolution pervades all areas of our lives. Unmanned aerial vehicles (drones and quadrocopters) are gaining popularity and become more autonomous. It is becoming increasingly difficult to defend against unauthorized invasion of privacy. For example, it is very difficult to protect yourself from unauthorized aerial shots that can be carried out with the help of "drones".
First, for the purpose of controlling unmanned aerial vehicles, 2.4-5.8 GHz WiFi communication was used. Now, radio frequencies of various ranges and even satellite communications are often used. Video equipment is installed on the drone, and it is capable of transmitting everything to the camera's lens "to the base". How do you like it if you don't know who owns a drone or a quadrocopter will circle over your lawn? Or will someone use these devices to shoot a production facility that you own, with locations for hidden security posts and video surveillance systems? Are you ready to share your work secrets?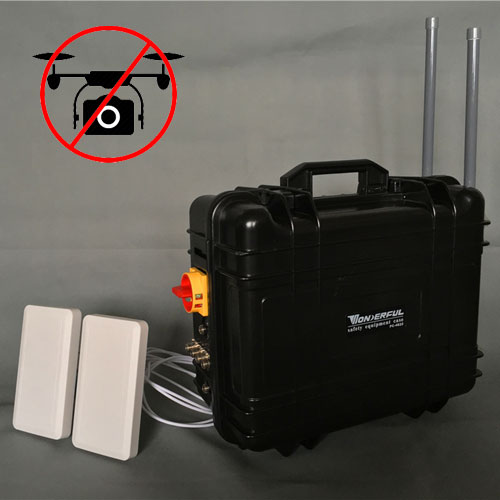 Drones in the hands of attackers can cause you real damage. Already no one can guarantee you privacy. However, there is one remedy. Devices that interfere with the transmission of audio and video signals – drone jammer. As drones improve, these devices also become more technically sophisticated and powerful enough to carry out the corresponding tasks.
Below we will give you some recommendations for choosing such a "jammer". The main indicator of the effectiveness of such a device is the spectrum of blocked frequencies. The frequencies used by drones to transmit signals to a control station can be classified as follows:
frequency range for video transmission: 2.4G WIFI 2400-2500 MHz 20 W;
frequency range used for remote transmission of control commands: 2.4G WIFI 2400-2500 MHz 20 W;
frequency range for video signal transmission and remote transmission of radio control commands: 5.8G 5.5-5.9 MHz 2 W;
frequency range of remote transmission of radio control commands (868-912 MHz, 860-920 MHz 25 W, 433-434 MHz 20 W);
Additional GPS frequencies L1 1575 MHz 40 watts.
At the output, such a "signal jammer" is capable of delivering power up to 127 watts. Six 0.5-meter fiberglass whip antennas provide an effective 360-degree coverage area.
The effective range of the "jammer" is 200-800 meters. The impact power varies depending on the signal strength and the distance of the drone from the "base". Reliable cooling system (built-in chillers: 5 small internal versions and 3 larger ones – from the top above) ensures a silent and reliable operation of the device. A peripheral network device (in the execution from 50 to 60 Hz, from 100 to 240 V AC (AC100-240 V-DC24-27 V) will be able to ensure the effective operation of your "drone suppressor" around the clock.