Here you can see many different types of whine. For different situations that you need, the cell phone jammer is also different. Some people have to be portable, some people need the desktop, there are people who need remote control, they are easy to control the device.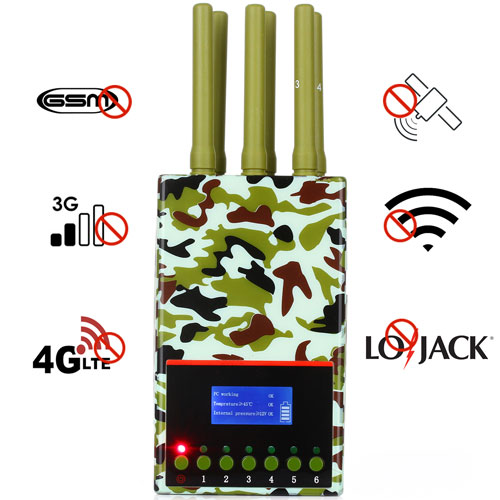 The interference area is not too wide for personal use and must make moving easier. At this point, mini jammer is undoubtedly a good choice. You can see that in our shop there are many types of portable jammers that have different functions and look. Here we present a camouflage six-line handheld jammer.
This has a radius of interference on 20m portable cell phone jammers are camouflage, the appearance is very characteristic. It looks cool.
Of course, in addition to the exquisite appearance, it is also very characteristic from a technical point of view, that is, it is a display that is not the same as other wrists. This display can show the status of work, performance, temperature, etc. so that you can easily use it. The supported bands include GSM, 3G, 4G, 4GLTE, GPS, WiFi and Lojack, with several options available. In addition, it can control each band separately.
If you use a telephone jammer, you will not be interrupted during important meetings or other personal telephones, or you can sleep well at night if you do not want to be disturbed by telephone. This interference product is easy to install and environmentally friendly, will not harm human health.
The product is available, we guarantee delivery within 24 hours and for all of our products to provide a 1 year warranty.